The health and wellness of employees is a priority for businesses today. Providing healthy snacks for employees is a great way to show your staff that you care about their wellbeing, both in and out of the office. Here at The Fruit Box Group, we're committed to helping organisations like yours promote a healthier workplace through our office snack delivery service. 
In this blog, we're going to discuss why healthy snacks are so essential and provide some suggestions for implementing this practice.
The Importance of
Healthy Snacks for Office Staff
Before we dive into the how-to, it's essential to understand why healthy snacks are important for your staff.
Boosts Productivity and Focus
Food fuels our bodies and minds! Providing nutritious options for your employees can help to keep their energy levels high, increase their focus, and ultimately boost productivity. Lollies might be tempting, but foods with low glycaemic index, such as fruit, nuts, and whole grains, provide a slow-release energy, helping to maintain concentration levels throughout the day.
Promotes Wellness and Reduces Sick Days
Healthier eating habits can lead to improved overall health and wellbeing. By offering nutritious snacks, you're helping to reinforce healthy habits, which can lead to fewer sick days and a more positive mindset overall.
Demonstrates Your Company's Care for Employees
By providing healthy snacks for employees, you're showing that their wellbeing is a priority. This act can enhance your corporate culture, improve morale, and increase employee loyalty.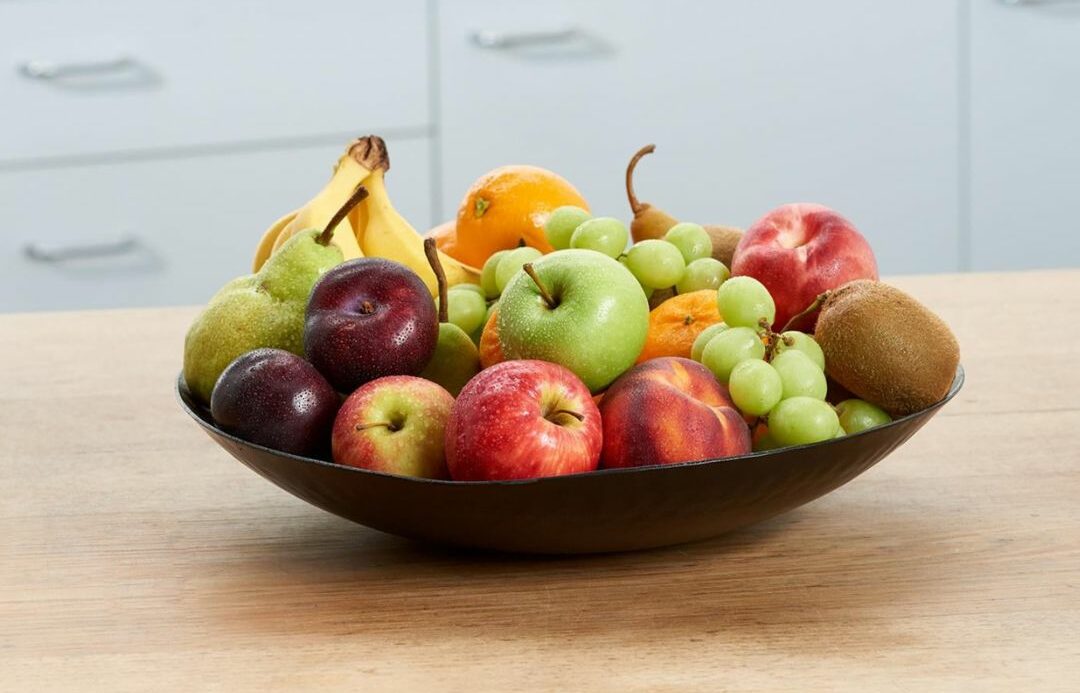 Implementing
Healthy Snacks For Office Staff
: What to Consider
Here are some considerations to make when selecting healthy snacks for office staff:
Variety is Key
Ensure your snack options cater to a wide range of tastes and dietary requirements. Variety keeps things exciting and encourages employees to partake in the healthy snacks on offer.
Keep it Fresh
Freshness is vital when it comes to fruit and other healthy snacks. Opt for a provider like The Fruit Box Group that will always source products locally wherever possible to guarantee freshness and quality.
Accessibility
Make sure that the healthy snacks are readily available and in an accessible location. The easier it is for employees to grab a healthy snack, the more likely they are to do so.
How We Can Help in
Providing Healthy Snacks For Employees
At The Fruit Box Group, we take the hassle out of providing healthy snacks for employees. Our office snack delivery service offers an assortment of fresh seasonal fruit, yogurt flavoured milk, dried fruit and nuts and more. We customise each delivery based on your team's preferences and needs, ensuring everyone in your office can enjoy our delicious offerings.
A Variety of
Healthy Snacks For Office Staff
We understand that one size doesn't fit all when it comes to snacks. We customise each delivery to suit your team's tastes and dietary requirements.
Convenient Delivery Service
We use our own drivers to deliver your healthy snacks for office staff, ensuring reliable deliveries. With the flexibility to set delivery frequencies – be it weekly, fortnightly, or monthly – we cater to your business's unique needs. Your snacks are also sent with your regular fruit or milk order for convenience.
Fresh, Local Produce
We pride ourselves on sourcing our products locally where possible, guaranteeing not only fresher produce but also an opportunity for you to support local farmers and contribute to the local economy 
It All Starts with a Snack!
A cupcake a day keeps the doctor away (said no one ever). Providing healthy snacks for employees is more than just a perk – it's an investment in their health and productivity. Our services at The Fruit Box Group make it easy for you to provide fresh, local, and healthy snacks to your team. So why wait? Start promoting a healthier, happier workplace today.
The Fruit Box Group is Australia's original and largest office fruit and milk delivery service.  We deliver fruit and milk to all major cities and regional areas including:
Sydney
Melbourne
Newcastle
Brisbane
Perth
And more!